Specialist in stone sculpture , colored marbles , glyptics , restoration and Geoarchaeology
The Marble Empire. The unique stone that made Rome beautiful
/ un film di Folco Quilici ; regia Folco Quilici ; consulenza scientifica Dario Del Bufalo ; direttore della fotografia Riccardo Grassetti ; testi Marino Maranzana ; musica Vincenzo Ricca ; montaggio Marilena Grassi. - Roma : Istituto Luce ; Firenze : Giunti, 2005.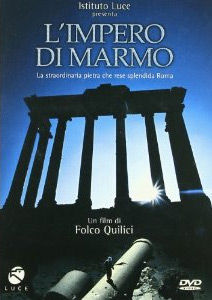 "Inspired by the volume 'Marmora Romana' by Raniero Gnoli, he reports on the «marble hunters» both past and present searching for quarries of the «shining stone», which at times are more valuable than gold mines…"
A fascinating documentary that tells of marble hunters in search of the ancient 'shining stone' quarries, which made Rome so magnificent. With his characteristic narrative skill, Folco Quilici gives us an archaeological account in which multi-coloured marble is the protagonist; this marvellous material that characterised all the buildings constructed between the 1st and 3rd century in the Roman world and that subsequently inspired the Italian Renaissance.